Join The Prayer Warriors
Each month, we'll email you our prayer of focus and let you know of specific needs for our agency and those we help.
Submit Your Prayer Request
We'd also like to pray for you. Each week, our team offers prayers and praises.
Pray with Catholic Charities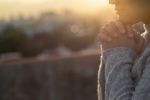 Jesus taught us to "ask, seek and knock" for all we need from our heavenly Father. At Catholic Charities, we've know firsthand that when we do, God responds in ways that change lives for our teams, those we serve and our supporters.
Join us as a prayer partner and help shape how we invite God into our work and serve our communities.
March 2023
We praise you as our Creator, wondering at Your design and purpose for each of us. We confess that we rarely think about the divinity of the daily work you put before us. Additionally, we also frustrate the work of others, dismissing their efforts or denying their investment of heart and mind. Create in us a true understanding of our high calling and show us how to extend our hands to those who might not yet know their worth in You.