Join The Prayer Warriors
Each month, we'll email you our prayer of focus and let you know of specific needs for our agency and those we help.
Submit Your Prayer Request
We'd also like to pray for you. Each week, our team offers prayers and praises.
Submit a Video Prayer Request
Record your prayer request and we'll share with our team during our prayer services.
Pray with Catholic Charities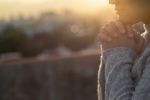 Jesus taught us to "ask, seek and knock" for all we need from our heavenly Father. At Catholic Charities, we've know firsthand that when we do, God responds in ways that change lives for our teams, those we serve and our supporters.
Join us as a prayer partner and help shape how we invite God into our work and serve our communities.
December 2022
O Lord, we could never have imagined the gift of a savior presented as a newborn. Moreover, it remains hard for us to recognize the gifts you've abundantly poured into each of us for all of us. Forgive any willful ignorance and open the eyes of our hearts to see and know Your expression of love in every person. Help us understand the importance of community and the divine roles You have given each us as we extend the hope of Christmas year-round. Amen.