Become a prayer partner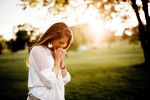 Are you interested in joining us as a prayer partner? Please let us know by emailing prayer@ccpgh.org. In the meantime, please join your hearts as we lift our neighbors to our Father:
Almighty and most merciful God,
We remember before you all poor and neglected persons whom it would be easy for us to forget:
The homeless and the destitute,
The old and the sick,
And all who have none to care for them.
Help us to heal those who are broken in body or spirit,
And to turn their sorrow into joy.
Grant this, Father, for the love of your Son,
Who for our sake became poor, Jesus Christ our Lord.
Amen.
Visit us every Wednesday on our Facebook page as we gather at Compassion Corner to pray. You can find us at Catholic Charities, Diocese of Pittsburgh.